The Downtown Breakroom: Minneapolis Premiere Pocket Park for Downtown Youth & their Neighbors.
Site
2nd Ave North & North 4th Street
North Loop, Minneapolis
Leaders & Partners
Green Minneapolis
YouthLink MN
Damon Farber Landscape Architects
Downtown Minneapolis, and especially the Downtown West neighborhood, has some of the most highly visited destinations in the region. Full of amenities—from bars and restaurants to concert and sporting venues—the area nevertheless lacks one essential feature: recreational green space.
The vacant lot at 2nd Avenue North and North 4th Street is an ideal location to meet this need. Located adjacent to Target Center and Target Field, the site is in a dense network of multi-family housing units and office buildings; consequently, it can serve a large population of residents and employees throughout the week. In addition, it is in a highly visible location and can serve as a common access point for the millions of visitors streaming into the area for entertainment and special events. Currently empty and neglected, the site could become a landmark for downtown.
Midwest Skateboarding Alliance has proposed construction of a multi-use pocket park on the site that would include a healing garden, dog run, picnic area, interactive art, and a skatepark.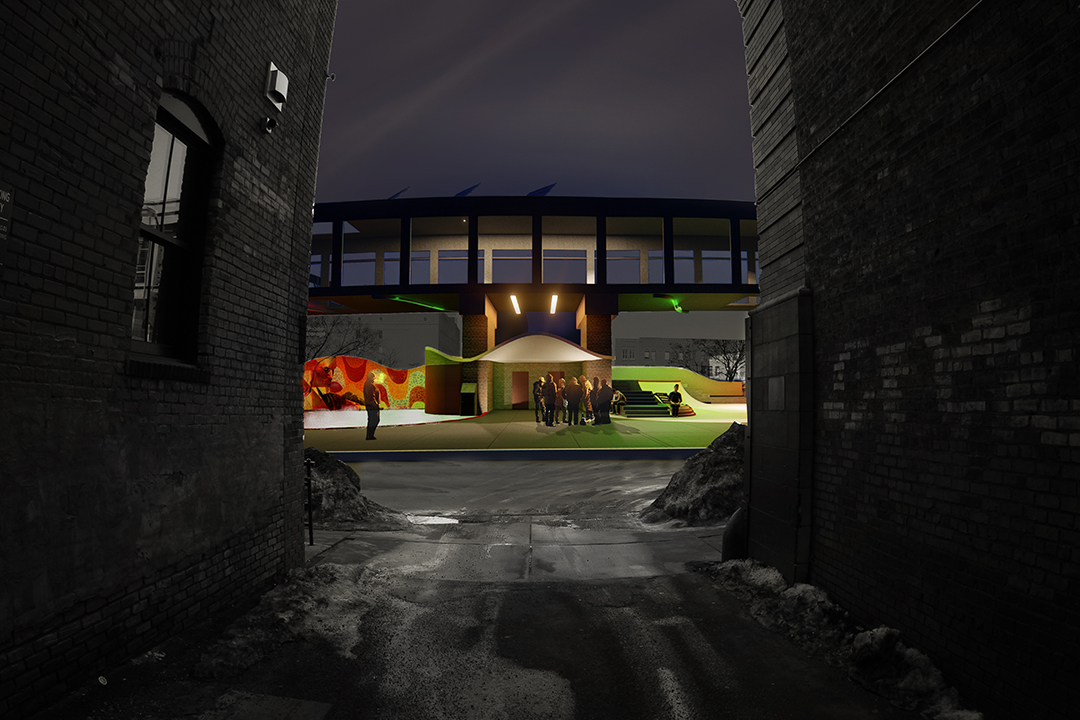 Transform a neglected, unwelcoming space into a vibrant community asset.
Provide local workers and residents with an outdoor area to relax and reinvigorate or enjoy an alternative place for meals and meetings.
Preserve a safe and contained area for pets to run and play outdoors.
Encourage more foot-traffic in the area in order to activate the space, and thereby increase safety.
Contribute to downtown innovations in green infrastructure with the addition of rain gardens, shade trees, and progressive stormwater management.
Create a top tier skatepark that will fuel physical activity for youths and adults of all ages and attract visitors that will patronize local restaurants and businesses.
Offer an alternative place for skateboarders to enjoy their sport as a means of proactively reducing nuisance complaints or property damage elsewhere downtown.
Foster displays of public art and citizen athleticism.
Expand downtown pollinator and bird habitat and promote sustainable, native plantings in the downtown area.
Visually communicate to visitors that the Downtown West neighborhood is trend-setting, inclusive, and engaged.